...my mother bought me a big three-in-one Anne of Green Gables collection. (It included the 1st, 2nd and FIFTH volumes of the series, which I always thought was weird, but, whatever.) That year, I also first watched the miniseries that I would carry with me as a favorite for years to come.
The reasons I fell in love with the story of Anne Shirley are simple: even though I shared the same first name as Anne's best friend Diana Barry, I connected deeply with Anne. Like Anne, I was (wait...still am!) highly highly (HIGHLY highly highly) sensitive, passionate, and never very good at taking personal criticism. Anne hated change. (As do I. As do I!)
Anne was even a writer in the movie!
And the second reason can be summed up in two words...
Gilbert Blythe.
Around the 7th grade, boys started to become obnoxious. However, I found comfort in the two
Anne of Green Gables
miniseries and tried to reassure myself that not all boys were eejits, and that MY Gilbert Blythe was out there somewhere. I found other girls who felt the same exact way, mainly my friend, Michelle. We gushed over Gilbert Blythe, and the actor who played him, Jonathan Crombie, constantly on the schoolbus, and watched his scenes over and over at sleepovers. He was our romantic ideal.
There was just something about him...his mischievous grin, his messy curly hair. The way he'd wrinkle his nose and say "Sorry". (True Anne fans know what I"m talking about.)
Let's remember the last scene of the first movie when Anne and Gilbert finally become friends and he tenderly touches her face and calls her "Carrots."
I dare you to watch the scene of Anne of Avonlea and Anne is dancing in the meadow by herself and Gilbert comes and asks her to dance without melting.
Michelle always said that if she ever met Jonathan Crombie, she was going to take a picture with him, blow it up, and hang it in her kitchen forever.
We never thought that day would actually come.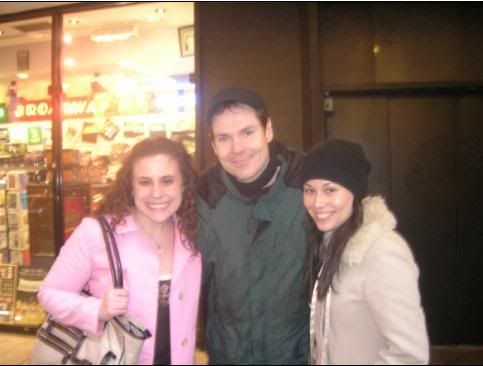 I wouldn't consider him to be a first crush per say, but definitely a first romantic ideal. Around the time when boys became annoying, we began to put Gilbert on a pedestal. Why can't all boys be like Gilbert? Are there any Gilberts left out there? Will I ever find MY Gilbert?
Anne's friends in the movies constantly tell her that she and Gilbert are meant to be, even if her old chum doesn't fit her romantic ideal. Oddly enough, Gilbert became a romantic ideal for many young women. (Myself included...so very very much.)
I never thought Jonathan Crombie, the man who breathed life into Gilbert Blythe, would ever be somebody I would see perform on stage (since I don't, you know, live in Canada) or meet.
Dreams do indeed come true.
A fellow Gilbert fanatic and I went to see him in
The Drowsy Chaperone
and three days, Michelle and I went together. It was a day we never thought would come as 12-year-olds.
The only thing better than sitting in the front row of
The Drowsy Chaperone
while the Original Broadway Cast is on stage is sitting in the front row of The Drowsy Chaperone when Jonathan Crombie is sitting in a chair about ten feet away from you.
And when Jonathan Crombie hands your good friend a $20 bill to put in the BCEFA for him and then tells you to make sure she puts it there.
And when you tell Jonathan Crombie that he is part of the reason that made you and this good friend bond 10 years ago.
(to which Jonathan Crombie responded, "Don't you mean TWENTY years?! Are you Anne fans?")
(which kind of made us wonder, "Why ELSE would we love you Jonathan Crombie? YOU WERE GILBERT BLYTHE!" And also made us realize that it would have made him feel old if we said to him, "Yes, we know the movie came out twenty years ago, BUT we were too young to appreciate it back then.")
And watching Jonathan Crombie sign autographs for little children! "Will you sign my program?" "I'd LOVE to sign your program!" Jonathan Crombie happily responds to the little children.
(Awe, he's nice to little kids, I thought! I love him even more! Then again, if he had been mean to the little kids, I'd have gone home crying and burned my 20th Anniversary Anne of Green Gables DVD.)
I love you, Jonathan Crombie!
Promise me one thing, Jonathan Crombie...the next time I lose a job, you'll come back to Broadway. You're getting me through this, buddy!
He is as Gilbert as ever. At 40 years old, he is still every bit as cute and warm and still has those Gilbert dimples!
While I don't think Mr. Jonathan Crombie was SCARED of us in anyway...I think he was slightly confused. I don't think he has any idea just how famous he is to some people (and by some people, I mean my friends and me.)
I am still looking for my Gilbert...some girlhood ideals never die...I know he is out there somewhere!
Diana Rissetto